HQ
From S.H.O.
Sho.Wiki is all about the S.H.O. Drive, a new type of electric motor.
Facebook URL: facebook.com/ShoDrives
YouTube URL: youtube.com/ShoWiki
Coding Bootcamp Application
| | |
| --- | --- |
| Tue 1/9/2018, 2:53 PM Now that you have completed your phone interview, you will want to click here to complete your Skills Assessment. This takes 15 minutes to complete. Go through each of the questions and answer to the best of your ability. Remember that this is not a pass/fail and will not be factored in your overall Admissions decision. | Quote from Email Received by Kevin M. (me) ;) |
Here is a list of revisions for this page: http://www.sho.wiki/index.php?title=HQ&action=history
Another quote, but this time from a results page:
"If accepted into our program, prepare to complete at least 16 hours of prep work before class starts."
Sincerely, S.H.O. talk 15:16, 9 January 2018 (PST)
New website
https://arqumari.com/ - Web Services by Kevin Marinas. Sincerely, S.H.O. talk 10:06, 18 June 2018 (PDT)
Physics Stack Exchange Questions
See also: Precession Circle
Sincerely, S.H.O. talk 01:22, 3 August 2019 (PDT)
Quick Questions
What is the S.H.O. about?
This will be the first drive motor in the world to have a coil that looks like an S, or an H, or an O, depending on which side you look from.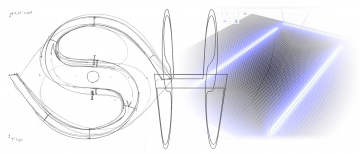 Visit http://sho.wiki/3d to see the full-page version of this animation!
A simple version with only the path of the S.H.O. Coils can be found at http://sho.wiki/3d/simple.
An advanced version displaying the magnetic fields and vector potential can be found at http://sho.wiki/3d/advanced.
What does S.H.O. stand for?
S.H.O. stands for "Side Hung Over".
What good is this for?
The best way to know is to build one yourself and show it!
How do I make it?
Details can be found at the Replication Station.
Site map
HQ ● Glossary ● April 2016 Presentation