April 2016 Presentation → Phase 6
From S.H.O.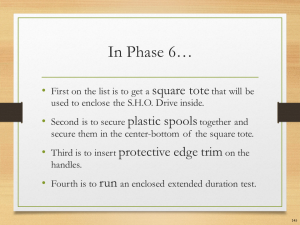 In Phase 6…
• First on the list is to get a square tote that will be used to enclose the S.H.O. Drive inside.
• Second is to secure plastic spools together and secure them in the center-bottom of the square tote.
• Third is to insert protective edge trim on the handles.
• Fourth is to run an enclosed extended duration test.
Inserting the S.H.O. Drive
Square Tote
(Phase 6 Parts)
• In order to enclose the S.H.O. drive for the following test, I will use a Square Storage Box from The Container Store.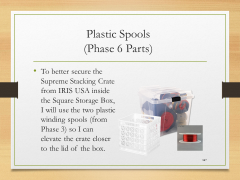 Plastic Spools
(Phase 6 Parts)
• To better secure the Supreme Stacking Crate from IRIS USA inside the Square Storage Box, I will use the two plastic winding spools (from Phase 3) so I can elevate the crate closer to the lid of the box. 
Protective Edge Trim
(Parts)
• In order to secure the spools together and to center the crate against the indentions on the lid of the box, I will use U Shape Car Door Edge Guard Trim from CarBeyondStore at Amazon.com 
Enclosure test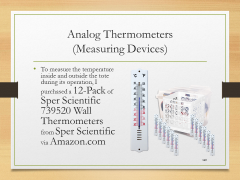 Analog Thermometers
(Measuring Devices)
• To measure the temperature inside and outside the tote during its operation, I purchased a 12-Pack of Sper Scientific 739520 Wall Thermometers from Sper Scientific via Amazon.com 
Temperature
(Pre-run Testing)
• Before I run the device, I will apply some masking tape on each thermometer and write on each the location that each will be placed during the test.
• I will then place the thermometers near each other, and away from the windows, for a couple of minutes. Then I will compare their readings. 
Temperature
(Continuous Testing)
• During the continuous testing, I will record their temperature periodically on camera without moving them.
• To minimize data noise. I will keep the heater off and the windows and blinds closed. Preferably, clouds would be overcast during this period, or else I could choose to instead conduct the test overnight.
• I will put a thermometer wherever window blinds are missing. 
Temperature
(Post-run Testing)
• After the test run, these thermometers will be brought together once again away from the windows to show again for a couple of minutes to see if they give the same reading. 
April 2016 Presentation
I

Introduction
Summary of measuring devices, back up and safety equipment, and camcorder (+accessories)
1

Phase 1
Holes, brass hinges, square nuts
2

Phase 2
Neodymium magnets and bearings
3

Phase 3
Spool, coils, and ceiling hooks
4

Phase 4
No hidden batteries, increase rigidity, hex nuts, terminal rings, toggle switch, fan blades, and extended test run
5

Phase 5
Heavy duty basket, S.H.O. Drive insertion, secure meters, and portable extended test run
6

Phase 6
Square tote, plastic spools, protective edge trim, and enclosed extended test run
7

Phase 7
Prepare elevated test platform, outdoor test setup, camcorder hookup to portable power, and outdoor extended test run
Site map
HQ ● Glossary ● April 2016 Presentation